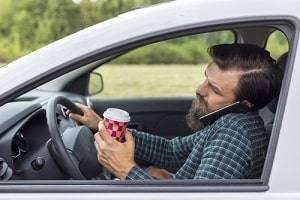 In 2018, an estimated 400,000 people in the United States were injured and almost 3,000 were killed in car accidents involving distracted driving, according to the National Highway Traffic Safety Administration (NHTSA). Distracted driving is a serious problem nationwide and in California, and if you have been injured in an accident caused by a distracted driver, you need an attorney who understands the legal strategies that give you the best chance of obtaining the compensation you need and deserve.
Common Causes of Distracted Driving
Distracted driving refers to any situation in which a driver removes his or her attention from driving to focus on another task. One well-known cause of distracted driving is cell phone use, especially texting, which can remove a driver's eyes from the road for five seconds or more. In California, texting while driving and any other handheld cell phone use is against the law. Other common distractions are not explicitly forbidden, but they can be dangerous, nonetheless. Some of the most frequent causes include:
...