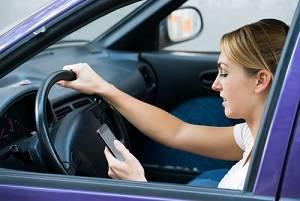 You read that correctly; certain driving behaviors can actually increase your chances of being in a collision by four hundred percent. According to the California Highway Patrol, distracted driving behaviors--particularly the use of a cell phone--increases your chance of being in a car accident by 400 percent, and makes it 23 times more likely for you to be at risk for collision. Those are pretty astonishing statistics, but the fact that so many drivers continue to text and talk on their phones while driving sadly implies such driving behaviors are not taken very seriously.
Dangerous Driving Behaviors that Put You and Others in Harm's Way
Sending one single text requires the average person 4.6 seconds of their time, and driving at 65 miles per hour and texting for a mere three seconds is the equivalent of driving the length of a football field completely blindfolded. Although using your cell phone in any way, shape, or form while behind the wheel is the most dangerous and the most commonly talked about distracted driving habit, other behaviors such as eating, interacting with other passengers, and fidgeting with the radio put you at serious risk for accident and injury as well.
...