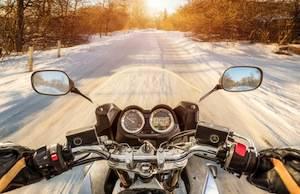 California is well known for extended seasons of tropical weather—an ideal location for year-round motorcycling. There are several reasons why to choose a motorcycle as the primary means of transportation. Along with the thrill of the ride comes the added financial benefit and increased mobility through traffic jams. However, one disadvantage is apparent when it comes to their physical size in comparison to other vehicles in a collision. Precautions must be taken at all times for motorcycle safety. Moreover, there are additional precautions that should be considered during winter months to prevent motorcycle accidents.
Safety Tips for All Driving Conditions
Motorcyclists must follow the same laws of the road as any other vehicle. Additionally, the state has mandated requirements and suggestions that are in place to protect these riders. These safety measures for riders include the following:
Wear a helmet as a driver or a passenger that is US Department of Transportation compliant;
Wear face or eye protection;
Dress in protective clothing, such as a long-sleeved leather jacket with reflective material, long thick pants, boots that rise above the ankle and are closed-toed, and full-finger gloves;
Ensure the motorcycle is in operable condition—tires have sufficient tread, air pressure and all lights are functional, both sets of brakes are good, and the mirrors are present and free from obstruction;
Ensure visibility to other drivers;
Let other drivers know your diving intentions by using signals;
Give yourself plenty of space on the road;
Stay alert of surroundings; and
Identify hazards in advance.
Winterizing Your Riding Habit
Although there are not many things as glorious as the first ride out on an open road on the first spring day after a long winter, the urge to ride does not dissipate over the winter. As mentioned, many here in California have chosen the motorcycle as their primary means of transportation as the benefits outweigh the short winters. Therefore, if you decide to continue, you should consider adding other safety measures to your routine, such as:
Trap in body heat by wearing longer cloves, a scarf, and a balaclava under your helmet;
Outfit your motorcycle with a windscreen or hand guards;
Prevent condensation on your visor by wearing a half mask paired with a balaclava;
Change your antifreeze before the season starts;
Avoid hypothermia by stopping more frequently than normal and enjoying a hot beverage to warm up;
Remove racing tires and opt for all season as they better grip to the surface at a colder temperature;
Ensure your insurance company covers for year round riding;
Watch for salt, newly formed cracks in the road, and black ice; and
Increase your visibility and following distances.
If you have followed the safety precautions but were still in an accident, the fault may be due to the negligence of the other driver.
Speak with a Skilled Personal Injury Attorney in San Jose Today
If you have been injured in a motorcycle accident and are interested in discussing your options with a San Jose, CA motorcycle accident attorney, contact The Law Office of John J. Garvey, III today at 408-293-7777 to schedule your risk-free initial consultation. If there is no recovery, there are no fees. We proudly service clients in Santa Clara County, Alameda County, Santa Cruz County, Monterey County, and other surrounding counties.
Sources:
http://www.bikersrights.com/states/california/california.html
https://www.dmv.ca.gov/portal/wcm/connect/af13374c-aa57-4f2b-9ac9-aa3fdc419cc9/dl665.pdf?MOD=AJPERES
http://www.motorcycle-usa.com/2008/10/article/ten-ways-to-keep-riding-in-winter/