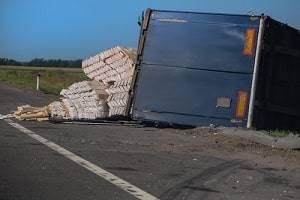 According to statistics from the National Highway Traffic Safety Administration (NHTSA), the number of people injured and killed in accidents involving large trucks has risen significantly in recent years. The primary danger is not to the truck drivers themselves, but to the occupants of the other involved vehicles, who account for over 70 percent of the annual fatalities. Truck accidents are dangerous not only because of the vehicles' large size but also because of the heavy loads they carry. When those loads are not properly secured, they can lead to accidents in a number of ways.
How Unsecured Cargo Loads Cause Accidents in California
Semi-trucks are built to haul heavy weight, but in order to do so safely, they must be loaded properly with their cargo fully secured. When loose cargo shifts in transit, accidents often result because of one of the following reasons:
Weight becomes distributed improperly, making it difficult for the driver to maintain traction and control of the vehicle.

Shifting weight causes the truck to overturn or flip, which can lead to multiple vehicle pile-ups.

Cargo falls off of the truck and onto the roadway, either directly onto or in the path of nearby vehicles.
Any of these situations have the potential to cause serious injuries for any of the drivers and passengers caught in the crash.
Determining Liability in an Accident Caused By Shifting Cargo
The Federal Motor Carrier Safety Administration (FMCSA) has regulations in place to minimize loose cargo accidents, addressing how loads should be distributed, how much weight and force securement devices should be able to withstand, and how different kinds of cargo should be secured to prevent shifting. If an accident occurs because these regulations were not followed, several parties may share in the fault.
The truck driver may be liable for failing to regularly inspect the cargo to confirm proper loading.

Loading crews may be liable for failing to follow securement rules in the first place.

The company that manufactures the securement equipment may be liable If the devices themselves are faulty.

The trucking company that employs the driver and loaders may be liable for failing to enforce the FMCSA regulations.
If you have been injured in an accident caused by loose cargo, identifying all liable parties can be challenging, but an experienced personal injury attorney can help you obtain records and other evidence you need from the trucking company and its employees as you build your case for compensation.
Contact a San Jose Truck Accident Attorney
A truck that has unsecured cargo can cause a collision with other vehicles, resulting in severe injuries for the involved parties. If you or someone you know has been hurt in this type of accident, it is important to consult a personal injury attorney as soon as possible to explore your options for seeking compensation. Attorney John J. Garvey, III has the experience to build a strong case for you and navigate the complex liability questions that may arise. Call our knowledgeable and dedicated Santa Clara County personal injury lawyer today at 408-293-7777 to schedule a free consultation.
Sources:
https://crashstats.nhtsa.dot.gov/Api/Public/ViewPublication/812663#:~:text=Fatalities%20in%20crashes%20involving%20large,to%204%2C761%20fatalities%20in%202017.
https://www.fmcsa.dot.gov/regulations/cargo-securement/cargo-securement-rules