What Damages Can I Recover After a California Motorcycle Accident?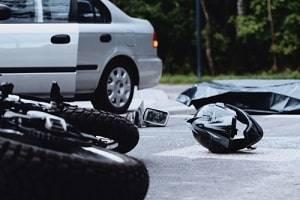 According to the California Office of Traffic Safety, approximately 500 motorcyclists die and many more are injured in accidents each year, often because of another driver's negligence. The physical, emotional, and financial costs for motorcycle accident victims can be extreme. If you have been injured in a crash, it is important that you understand how to pursue the compensation you need and deserve with the help of an experienced personal injury attorney.
Available Compensation for Motorcycle Crash Injuries
Although California law requires all motorcyclists to wear a helmet, they are still mostly unprotected compared to occupants of other vehicles. When accidents occur, injuries are often severe and have lasting impacts. When another party is at fault, you can pursue compensation through a personal injury lawsuit for damages including:
Medical expenses: Motorcycle accidents can cause traumatic brain and spinal cord injuries, paralysis, loss of limbs, lacerations, and more. You can seek compensation for the cost of emergency treatment, surgeries, medication, and rehabilitation.

Property damage: An accident will often damage or destroy your motorcycle, and you can pursue compensation for the cost of repairing or replacing it.

Lost income and earning potential: Your injuries may keep you away from work for a significant period of time or prevent you from returning to your previous occupation in the long term. You may be entitled to compensation for any resulting decrease in your income.

Pain and suffering: Catastrophic injuries from motorcycle accidents can lead to chronic pain, emotional distress, and permanent scarring, disability, and disfigurement. You may be able to pursue additional damages related to these non-economic impacts on your life.

Wrongful death: When a motorcyclist is killed in an accident, his or her family members can pursue compensation through a wrongful death suit for all of the above damages, as well as funeral expenses and loss of companionship.
As a motorcyclist, anything you can do to ensure your safe driving can improve your chances of receiving full compensation. Make sure that you always wear a helmet when driving and that you follow all traffic laws.
Contact a Santa Clara County Personal Injury Attorney
If you have been injured in a motorcycle collision, you should hire an attorney as soon as possible who can help you collect and preserve evidence from the accident that can strengthen your lawsuit against the at-fault party. In some cases, a distracted or impaired driver of a vehicle may be liable for causing the crash and your subsequent injuries. Attorney John J. Garvey, III, is committed to fighting for your full and fair compensation. Contact our skilled San Jose, CA motorcycle accident lawyer today at 408-293-7777 to request a free consultation.
Sources:
https://www.ots.ca.gov/ots-and-traffic-safety/score-card/#:~:text=Motorcycle%20Safety,2017%20to%2030%20in%202018.
https://leginfo.legislature.ca.gov/faces/codes_displayText.xhtml?lawCode=VEH&division=12.&title=&part=&chapter=5.&article=7.#:~:text=27803.,driven%20cycle%2C%20or%20motorized%20bicycle.