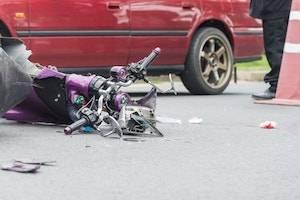 Motorcycle accidents are often debilitating, or even fatal, to those involved. Additionally, the devastation is often preventable, which perhaps makes the emotional impact harder to swallow. Although victims and families may be left in the figurative paralysis of what to do, a quick legal reaction time boosts the chances of a successful outcome.
A successful claim enables victims to gain compensation for much of their loss. No two cases are identical. However, there are behaviors frequently identified as the causes of a motorcycle accident.
Top Causes of Motorcycle Crashes
In a majority of cases involving motorcycle collisions, the defense of the person at-fault is simply, "I did not see them." This is far from an adequate response and by no means excuses the behavior.
In most cases, accidents involving motorcycles also include a larger vehicle, such as a truck or a car. Distraction and the failure to yield the right-of-way are common occurrences, with many drivers admitting they did not expect to see a motorcycle on the road as well. Bikers have just as much right to be on the roadway as the four (or more) wheeled vehicles, and other drivers owe them a duty to watch out for their presence.
The National Highway Traffic Safety Administration reports that half of the motorcycle collisions involve another vehicle and of these:
Excessive speed plays a factor;
In 42 percent the opposing vehicle attempted a left turn and the motorcyclist was going straight or passing another vehicle;
Two-thirds of these accidents are head-on collisions; and
6 percent are front-to-rear collisions.
Considerable Grievances
Once you or your loved one have diminished abilities due to the negligence of another driver, the family life is turned upside-down. Financial struggles jump to the forefront of a relationship with mounting medical costs often accompanied by a loss of wages. Fortunately, many costs are eligible for compensation once a duty of care is proven and that another driver failed to provide said care and failure to do so directly caused the injuries. Once a claim is successful, payment is awardable to cover the following grievances:
Medical expenses;
Property damage;
Earnings loss;
Future income loss; and
Pain and suffering.
Act Fast
Everyone grieves differently for a loss of life or a loss of ability. Many times, such suffering leaves a victim frozen in the devastation, in too much shock to think clearly enough to seek justice. However, the quicker the reaction time, the better the odds of finding evidence to earn maximum compensation. If you are interested in discussing your case with a San Jose, CA motorcycle accident attorney, contact the Law Office of John J. Garvey, III today by calling 408-293-777 to set up your free initial consultation.
Source:
http://www.calbar.ca.gov/Public/Pamphlets/AutoAccident.aspx