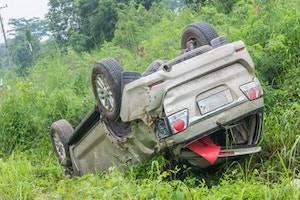 Estimates show that 10,000 lives are lost on an annual basis due to rollover vehicle accidents. This type of vehicle accident is so dangerous that the National Highway Traffic Safety Administration (NHTSA) reports how those involved in a rollover accident have a 33 percent chance of not surviving.
Although a rollover can occur in any model of vehicle, these accidents are regularly linked to sports utility vehicles or SUVs, pickup trucks, or the modern day mini van—all vehicles which are considered "top heavy" because they have a higher center of gravity.
A rollover accident can occur when sideway forces, such as navigating a curve, shift the center of gravity to one side and therefore affect the vehicle's ability to balance evenly. This reaction is extremely dangerous if a driver is speeding or driving while under the influence. The result can be the loss of control of one's vehicle.
In a Consumer Reports (CR) article, entitled "Car Rollover 101," the non-profit leader in consumer safety offers the following life-saving tips on how to prevent or survive a vehicle rollover.
Out with the Old and in with the New
If at all possible, consider trading in your older model vehicle for a more recent model and one that is equipped with updated safety features. When researching a possible new vehicle purchase, review stability control and air bag systems.
Buckle Up for Safety
It is reported that half of all rollover crash fatalities occurred when seat belts were not in use. Statistically, in any type of vehicle accident, nearly three-fourths of those involved were not using seat belts and were fatally ejected from the vehicles.
When the Rubber Hits the Road
The air pressure and condition of a vehicle's tires may be one of the most overlooked safety factors. Consumer Reports suggests that tires be inspected on a monthly basis with the correct amount of air pressure. When replacing a set of tires, the replacements should be similar to the vehicle's original set.
Take a Load Off
Overloading any vehicle is dangerous; however, overloading an SUV or pickup can be disastrous. Before hauling any load, it is important to check the load ratings specified by the vehicle's manufacturer. Additionally, it is important to not overload the roof of the vehicle. This action can compromise the stability of the vehicle and increase the risk of a rollover.
Watch Your Speed
Maintaining a safe driving speed is essential, especially in adverse weather conditions. It is estimated that 40 percent of all fatal rollovers can be contributed to excessive speed.
Country vs. City Driving
The NHTSA estimates that up to three-quarters of all fatal rollover accidents occur within rural areas where the speed limit is marked 55 miles per hour or higher. The risk of a country road rollover is also increased as many of these rural roads are undivided highways without protective barriers.
Speak with a Skilled Personal Injury Lawyer Today
The most important tip for surviving a rollover crash is seat belt diligence. If you recently survived a rollover crash and credit your seat belt for saving your life, but still have questions regarding a possible defective auto design in your vehicle, poor road design, or another driver's negligence that may have led to your accident, San Jose rollover accident attorney John J. Garvey, III is available to review your case. All personal injury cases are handled on a contingency fee basis. Call the Law Office of John J. Garvey, III at 408-293-7777 to to learn more about your legal options today.
Sources:
https://crashstats.nhtsa.dot.gov/Api/Public/ViewPublication/809438
https://www.safercar.gov/Vehicle-Shoppers/Rollover
http://www.consumerreports.org/cro/2012/02/rollover-101/index.htm