Posted on February 05, 2021
in Catastrophic Injuries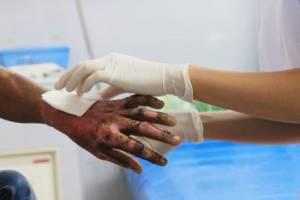 In a severe car crash or workplace accident, it is possible for a victim to suffer a variety of catastrophic injuries. Many of these injuries, including brain injuries, spinal cord injuries, and broken bones, are caused by a forceful impact, such as in a collision or a fall. However, burns are another common form of catastrophic injury, and they tend to have a different set of causes. If you suffer burn injuries due to someone else's negligence, you should be aware of the compensation to which you may be entitled.
Common Causes of Burn Injuries
When a vehicle accident results in burn injuries, it is often because fuel, oil, or another flammable substance leaks and ignites, causing a fire or even an explosion. A person who is caught in the flames or trapped in a burning vehicle can suffer severe injuries, including third-degree burns that penetrate to the deepest layer of skin. Burn injuries are also possible in a truck accident when the truck is carrying flammable cargo or dangerous chemicals.
Burn injuries are also common on construction sites due to fires and explosions, electrical hazards, malfunctioning equipment, chemical exposure, and burst pipes carrying hot water, among other causes. When a construction site burn injury is the fault of a negligent third party, the injured worker has the right to pursue a personal injury claim.
Recovering Damages for Burn Injuries
Depending on the severity and the effects of the injury, burn injury victims may be entitled to significant compensation for the damages they have suffered. These damages include:
The cost of medical treatment - Treating a burn injury often requires medication, surgery to repair the damaged skin, and rehabilitation, among other expenses. All of these costs can be covered in a personal injury settlement or verdict.

Lost wages - Burn injuries can require an extended recovery period during which the victim may be unable to work, and in some cases, they can result in permanent restrictions to a person's range of motion and other abilities. A personal injury claim can seek damages to compensate for wages lost as a result.

Pain and disfigurement - Burn injuries can also lead to chronic pain and discomfort, as well as visible scarring and disfigurement that permanently alters the victim's appearance. Through a personal injury claim, it is possible to recover non-economic damages for the physical and mental stress of an injury.
Contact a San Jose Burn Injury Attorney
If you or a loved one has suffered a burn injury, Attorney John J. Garvey, III can help you determine the damages you should seek, and gather evidence to support your claim for full compensation. For a free consultation, contact a Santa Clara County catastrophic injury lawyer today at 408-293-7777.
Sources:
https://www.healthline.com/health/burns
https://leginfo.legislature.ca.gov/faces/codes_displaySection.xhtml?lawCode=CIV&sectionNum=3333.2.