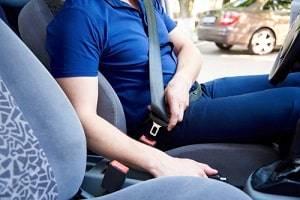 The National Highway Traffic Safety Administration (NHTSA) reports that approximately 90 percent of vehicle occupants in recent years use a seat belt and that seat belts save almost 15,000 lives each year. However, failing to wear a seat belt is still a significant factor in many vehicle-related deaths, as 47 percent of people killed in vehicle accidents in 2017 were not wearing a seat belt at the time. Even if you survive a car accident in which you were not wearing a seat belt, you may experience serious injuries resulting in costly medical expenses and a lasting impact on your quality of life. Furthermore, your failure to wear a seat belt may actually result in less compensation in a personal injury case.
How Do California Seat Belt Laws Affect Negligence?
California law requires vehicle occupants to wear a seat belt under most circumstances in recognition that doing so is the most effective way to save lives in the event of an accident. If you are wearing a seat belt and driving responsibly and you are involved in an accident caused by another driver's negligence, you may be able to reduce or avoid serious injuries entirely. If you are seriously injured under these circumstances, you can make a strong claim that the other driver was completely at fault for the accident and seek full compensation for any damages resulting from your injuries.
...