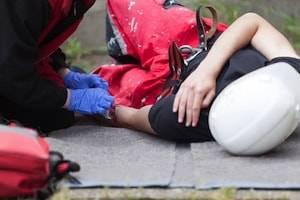 Construction sites are hazardous environments. Regardless of personal protective equipment—joint pads, helmets, or slip-proof shoes—accidents occur on construction sites at an alarming rate.
Each year, the United States Department of Labor and the Occupational Safety and Health Association (OSHA) work in conjunction to update the safety standards to prevent future incidents. However, each construction site has many employees in the vicinity at any given time, from those building the structure to approving permits, adding electricity, installing plumbing, and more. Each has a standard of care to which they must adhere. However, if any individual is negligent in these duties, workplace accidents may occur and cause severe injuries or even death.
Prevalence of Construction Site Accidents
In 2014, over 4,800 workers died on-the-job. This breaks down to more than 13 deaths per day. The construction industry contributed significantly to the large numbers. Additional statistics include the following:
Contractors accounted for 17 percent of the 4,800 work-related deaths in 2014;
Nearly 4,400 of these deaths were in the private sector;
In 2014, 20.5 percent of the private sector deaths were construction related; and
Of the said construction deaths, almost 40 percent were due to falls.
Falls on Construction Sites
Slip-and-fall accidents occur everywhere and represent the most common reason for an emergency room visit. Although falls happen in all areas of service, fatal falls most often occur on construction sites. Incidents occur either as a fall to the same level or a fall to a lower level—the latter often resulting in serious injury or death. Often, these fatalities occur due to the negligence of others, including improper scaffolding or debris cluttering a walkway.
Fall risk factors often visible at construction sites include:
Poor walking surface conditions;
Unsatisfactory environmental circumstances;
Obstructions; and
Substandard communication issues.
If You Sustained Injuries
If you sustained injuries due to someone else's negligence while working on a construction site, you may wonder how you will cover the medical expenses. A knowledgeable and experienced lawyer can assist in securing compensation for your injuries. If you have questions about your legal rights and options, contact a Santa Clara County, CA construction accident attorney by calling the Law Offices of John. J. Garvey, III today at 408-293-7777 to set-up your free consultation. With us, if there is no recovery, there are no fees. We have more than 40 years experience defending our clients in Santa Clara County, Alameda County, Santa Cruz County, Monterey County, and surrounding areas.
Sources:
https://www.osha.gov/oshstats/commonstats.html
https://nfsi.org/nfsi-research/quick-facts/