Truck Accidents in San Jose Cause Extensive Damage Every Year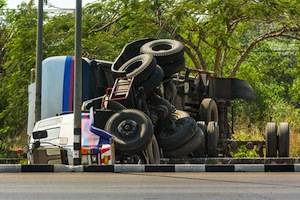 Massive 18-wheeled big rigs dominate our nation's roadways. These overpowering vehicles drive our nation's economy while also overpowering all other vehicles on the main highways and city streets. The sheer size and momentum brought forth by these vehicles makes them an intimidating force when traveling next to a non-commercial vehicle. Additionally, in certain cases, truck drivers leave a devastating wake behind them full of destruction and heartache for those unfortunate enough to cross their paths. Even with a recent decline in fatalities due to truck accidents, far too many families suffer at the hands of drivers who negligently operate their machinery.
Statistics
Due to ongoing investigations from two previous years, the most up-to-date and conclusive information available is 2014. Fatality Analysis Reporting System (FARS) only began in 1975, making most of the information available relatively new, but still useful in witnessing trends. Some of the most alarming statistics from recent years include the following:
In 2014, 3,978 trucks and buses were involved in fatal collisions;
The number of large trucks involved in injury crashes increased by 21 percent, from 73,000 to 88,000;
The number of large trucks involved in property damage only crashes rose 31 percent, from 265,000 to 346,000;
Approximately 61 percent of all fatal crashes involving large trucks occurred on rural roads and 26 percent on rural or urban Interstate highways; and
Vehicle miles traveled (VMT) by large trucks increased by 1.5 percent.
Leading Causes of Accidents Involving Commercial Trucks
Operators must complete extensive training before obtaining a commercial driver's license (CDL). The sheer size of the vehicle and the cargo being transported makes it a potential hazard. Therefore, the Federal Motor Carrier Safety Administration (FMCSA) and the Federal Highway Administration (FHWA) follow the data closely to determine where safety breakdown begins. Leading causes of accidents include:
Truck driver tiredness and fatigue;
Inadequate and improper vehicle maintenance;
Equipment failure;
Distracted driving;
Speeding;
Inadequate training;
Unfamiliarity with roads;
Overloading;
Construction roads; and
Weather hazards.
If you are the victim of a truck driving accident, you may be unsure of what to do. The driver or insurance company is likely to convince you to handle the matter out of court. It is possible to receive the compensation you deserve for your injuries without going to trial. If you are interested in discussing your options with a proven and experienced San Jose, CA truck accident attorney, contact the Law Office of John J. Garvey, III. Call 408-293-7777 to schedule your free initial consultation today.
Sources:
https://accidentdatacenter.com/us/california/san-francisco-oakland-san-jose-ca/santa-clara-county-ca
https://www.fmcsa.dot.gov/safety/data-and-statistics/large-truck-and-bus-crash-facts-2014