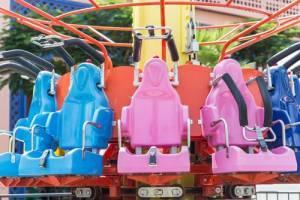 Officials in California have given the approval for three Fire Ball rides to reopen following a deadly accident at the Ohio State Fair last month. The accident occurred on opening night of the fair, killing one and sending seven others to the hospital with injuries.
A Tragic Situation
On July 26, fairgoers in Columbus, Ohio, watched in stunned horror as the ride known as the Fire Ball came apart while it was in motion. The Fire Ball is a pendulum-type ride which rotates riders as it swings back and forth in a large arc. Videos taken of the incident show pieces of the ride being thrown—along with several riders—as it reached the furthest point of its swing. Witnesses said that they saw at least two riders ejected from the ride and flying up to 20 feet before landing on their backs on concrete.
Quick Response
Following the accident, Fire Ball rides—and others of similar design—were closed by parks and fairs around the country as a precaution. In California, Cal/OSHA's Amusement Ride Tramway Unit contacted park owners and fair operators, asking them to close specific rides pending an investigation or an onsite inspection by Cal/OSHA. Six such rides were closed in response to the state's request.
Last week, three rides in California were permitted to reopen following an inspection, including one at Great America in Santa Clara. Cal/OSHA gave them the go-ahead after inspecting each of the rides for safety.
Determining the Cause
Fair officials in Ohio reported that the ride in question had passed several safety inspections before being permitted to open, including one just several hours before the accident. KMG, the Dutch company that manufactured the ride, announced this week that the accident was caused by "excessive corrosion on the interior of the gondola support beam." The ride was 18 years old, and the corrosion "reduced the beam's wall thickness over the years." Liability for the incident has yet to be formally determined.
Amusement Park Injuries
Whether at a fair or a permanent theme park, amusement rides are complex machines with many moving parts. When they malfunction or break, riders can be seriously injured or killed, as the Ohio situation tragically demonstrated. According to recent estimates, nearly 31,000 people required emergency treatment for injuries sustained on amusement rides in 2016. Almost two dozen have been killed since 2010.
Liability for amusement park injuries can be difficult to determine, as there are often many parties involved. Depending on the circumstances, an injured person may seek compensation from the park or fair itself for negligent maintenance or unsafe operation, the ride manufacturer for faulty design, or the contractors that assembled the ride if the assembly was not done correctly. In some situations, liability may even be shared by several entities.
If you have been injured on an amusement ride, an experienced San Jose personal injury attorney can help you determine who should be held responsible for your injuries. Call 408-293-7777 for a free consultation with Attorney John J. Garvey, III today. We will work with you as you seek the full compensation you deserve.
Sources:
http://www.nbcbayarea.com/news/local/CalOSHA-OKs-Reopening-Three-Fire-Ball-Rides-That-Were-Halted-After-Deadly-Ohio-Accident-438203433.html
http://www.cnn.com/2017/08/06/us/ohio-state-fair-ride-collapse/index.html