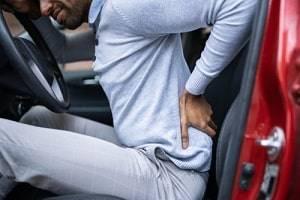 In 2017, almost 12,000 people suffered severe injuries in California car accidents, meaning that their injuries prevented them from walking, driving, or performing other activities that they were able to do before the accident. Many of these severe injuries involve damage to the spinal cord, which can have long-lasting effects and may require many years of recovery for the victim to even approach his or her condition before the accident, if recovery is possible at all. If you have suffered a spinal cord injury in an accident caused by another driver, a personal injury lawsuit can help you obtain compensation to cover your extensive medical treatment and rehabilitation.
Signs that You May Have a Spinal Cord Injury
Sometimes spinal cord injuries are immediately apparent after a car accident. If you find that you are paralyzed or have lost the ability to move body parts below the neck or waist, it is likely that you have suffered spinal cord damage. However, sometimes the extent of the injury is not obvious right away. Other signs that you may have a spinal injury include extreme back or neck pain, weakness, numbness or tingling, and difficulty walking or breathing. You may also be able to visibly detect a possible spinal cord injury if your neck or back is in an unnatural position after the accident. If you suspect that your spinal cord has been injured, you should seek medical attention immediately to prevent the damage from getting worse.
Treatment for Spinal Cord Injuries
After suffering a spinal cord injury, you will likely need both immediate and ongoing treatment. Right after the accident, you may require emergency surgery to prevent further damage, as well as medication and measures to immobilize and align your spine. You may also need medical assistance to manage complications in your respiratory, circulatory, muscular, and digestive systems resulting from your spinal cord injury. As time passes, you can begin the rehabilitation process, which often requires physical therapy to help you rebuild strength and motor skills as much as possible. Electric wheelchairs and other technology can also aid in your return to activities that you enjoyed before the accident.
Unfortunately, a spinal cord injury is likely to change your life permanently. In addition to the physical effects and expenses resulting from your treatment and rehabilitation, you may experience other impacts on your life, including the inability to return to work, emotional distress, and loss of companionship or enjoyment of meaningful activities. With the help of an experienced personal injury attorney, it may be possible to obtain compensation for both economic and non-economic pain and suffering damages through a lawsuit against the party responsible for the accident.
Contact a San Jose, CA Personal Injury Lawyer
A vehicle or a construction site accident, or an accident due to a dangerous condition on a property can result in debilitating consequences. Attorney John J. Garvey, III understands the severity of spinal cord injuries, and he is committed to helping his clients achieve full compensation for all damages so they can focus on recovering and improving their quality of life. Contact a South Bay Area car accident attorney today at 408-293-7777 to request a free consultation.
Sources:
https://www.chp.ca.gov/InformationManagementDivisionSite/Documents/2017%20ANNUAL%20REPORT%20CALIFORNIA.pdf
https://www.mayoclinic.org/diseases-conditions/spinal-cord-injury/diagnosis-treatment/drc-20377895#:~:text=Your%20doctor%20may%20not%20be,to%20one%20to%20two%20years.