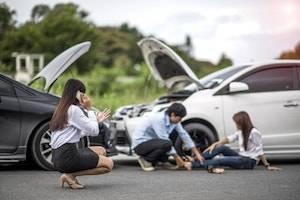 With the dawn of the new year, California has reported 2,360 traffic accidents statewide since January 1, 2017—traffic accidents that may represent the five most common types such as rear-end collisions, damage to parked cars, weather-related accidents, side-impact collisions, and wildlife-related accidents. If you are involved in any type of vehicle accident, what is required of you under California Law? The State Bar of California has the answers. Listed below are the primary requirements of any one involved in an accident in California.
Q. Do I Have to Stop?
A. Yes. California law requires you to stop when involved in any type of vehicle accident, whether it involves a pedestrian, is a crash involving another vehicle, or only results in damage to a parked car. Exiting the scene of any accident can increase the risk of hit-and-run charges, even if the accident was not your fault.
For accidents not immediately requiring injury assistance, you and the other driver must exchange information which includes:
Name and address;
Driver's license number;
Vehicle identification number;
Name of insurance carrier, telephone number, and address; and
Insurance policy number and proof of current insurance.
In the event you caused damage to a parked car and are unable to identify the owner, California law requires you to contact the California Highway Patrol (CHP) by telephone or in person. Additionally, if an accident resulted in injury or death, CHP is to be immediately contacted and asked to arrive at the scene.
Q. What is Required if Accident Results in Injury?
A. California law requires you to provide reasonable assistance to any party who suffered an injury. You may need to call an ambulance, transport the injured person to a medical facility, or provide immediate first aid.
If you are not trained in basic first aid, then avoid moving the injured person until professional help arrives. In the event that not moving an injured individual puts him or her in even in more danger, act quickly. This may be necessary in the event that one or more vehicles have caught fire and are in danger of exploding.
Q. How Can I Secure the Accident Site?
A. Think quickly. If available, use flairs on the road, make use of your hazard lights, or lift the engine hood. Stay calm and enlist the assistance of others who may have stopped to help.
Q. How Should I Seek Help?
A. After administering essential first aid, contact 911 immediately. Provide the operator with the exact location and ask whether or not an ambulance or fire truck is needed. Also, inform the operator of any injuries or fatalities and provide a brief synopsis of the accident. Stay on the line until the operator has released you from the call. If a cell phone is not readily available, then flag down approaching drivers to secure a cell phone and contact 911.
At present count, the State Bar of California hosts 187,000 registered attorneys, and skilled San Jose car accident attorney John J. Garvey, III has been a member since 1974. With over 40 years of personal injury experience, Attorney Garvey has been successfully serving clients in Santa Clara County, San Benito County, and the South Bay Area. If you have questions about a recent vehicle accident and need answers, please contact our office at 408-293-7777.
Sources:
http://accidentsinus.com/States/California/RoadAccidents_California_TrafficeReports.aspx?StateID=7
https://blog.allstate.com/common-causes-of-car-accidents/
http://www.calbar.ca.gov/AboutUs/BarNumbers.aspx