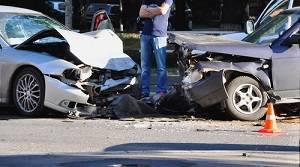 In the seconds after a car accident, your mind and body experience a state of shock, some confusion, and then, in many cases, panic settles in. How bad was the accident? Are you or your passengers hurt? What about the other drivers involved in the collision? Who will pay for your medical bills and the costs to fix your vehicle? What if your insurance policy does not cover all the damage?
While your mind is assaulted with a barrage of questions and concerns, the most important thing to do the moment after the accident takes place is to move to action. No matter how serious or minor the damage might be, your safety and communication during those first initial moments following the collision are crucial.
The Crash Happened. Now What?
California state law requires that you remain at the scene of an accident, regardless of how minor the damage might be. Even something as simple as backing into someone's mailbox or bumping the fender of your neighbor's car in the parking lot needs to be addressed. You are required to make contact with the person who owns the property or leave a note with your contact information, should you find them unreachable at the scene of the accident.
Immediately after the collision, you should:
Assess the damage and check for injuries;
Call the police or the California Highway Patrol;
Exchange your information with the other driver(s) involved. This includes your license, registration, and insurance information; and
Move your vehicle from the street, if possible, to avoid additional accidents and to prevent your car from being towed or impounded.
Once you have contacted the proper authorities, exchanged information with the other drivers, and tended to any injuries, the next step is to be sure to report any injuries within 10 days of the accident via the DMV Form SR-1. This is typically filled out with the help of your attorney and insurance agent. Should you fail to provide proof of insurance or you neglect to file the report, your license may be suspended and you may be subject to various fines and citations.
Where Legal Representation Matters
If you have the unfortunate experience of being injured in a vehicle accident, one of the very best ways to protect yourself following the collision is to seek legal representation. An experienced attorney can answer all your questions, help you file your insurance claim, handle medical expenses, and stand up for you in a court of law. A competent, knowledgeable Santa Clara County auto accident attorney can help. Call the Law Office of John J. Garvey, III at 408-293-7777 for a free consultation today.
Source:
http://www.dmv.org/ca-california/accident-guide/