Limiting the Risk of Drunk Driving Accidents During the Holidays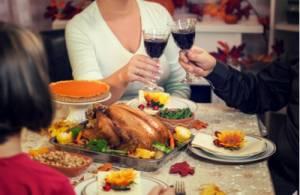 The holidays can be the most magical time of the year. Seeing old friends and family, watching children open presents, or sharing a favorite holiday meal can put a smile on anyone's face. The holidays are also the time of year that many people travel. The increase in traffic combined with hurried drivers eager to make it to their destination on time can make travelling during the holidays challenging. When individuals add drinking and driving to the equation, the risk of getting into an auto accident skyrockets. The National Highway Transportation Safety Administration (NHTSA) estimates that drunk driving usually contributes to approximately 30 percent of highway fatalities. However, this number doubles to nearly 60 percent during the time between Thanksgiving and New Year's Day. This holiday season, make a commitment not to drive under the influence of drugs or alcohol.
Always Have a Travel Plan that Involves a Sober Driver
For many, the holiday season is filled with social events. People visit with relatives, have gift exchanges, and often enjoy a cocktail or two together. Most workplaces have a holiday parties as well. If you plan to celebrate the holidays with a few drinks, always make sure to have a plan for getting home. Waiting until you are already drinking to make transportation arrangements can be disastrous. This is partly because in addition to giving drinkers that warm feeling of holiday cheer, alcohol also affects the decision-making parts of the brain. Alcohol use stimulates a neurotransmitter called norepinephrine. High levels of norepinephrine lower drinkers' inhibitions and increase impulsivity. As a result, those who normally make rational decisions about road safety may find themselves impulsively getting behind the wheel after a few drinks. A driver is much less likely to consider the potential consequences of his or her actions after consuming alcohol. This is why it is so critical to have a plan for transportation in place before you start drinking.
Contact a South Bay Car Accident Injury Attorney If You Have Been Injured in a Car Crash
Car accidents can lead to life-altering catastrophic injuries like traumatic brain injury, spinal injury, or paralysis. Even milder injuries like whiplash, soft tissue injuries, and broken bones can leave an individual unable to work and burdened with medical bills. To learn how you may be able to receive compensation for your injuries, contact our highly knowledgeable San Jose car accident lawyer. Call us at 408-293-7777 to schedule your free initial consultation.
Sources:
https://www.alcohol.org/effects/inhibitions/
https://www.prnewswire.com/news-releases/thanksgiving-eve-kicks-off-deadliest-season-for-drunk-driving-300182484.html
http://www.bactrack.com/blogs/expert-center/35042821-the-most-dangerous-times-on-the-road