Labor Day Parties May Be Primed for Disaster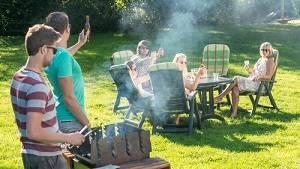 Labor Day is a public holiday that occurs on the first Monday in September. Typically, it is a federal holiday where government workers and schools all have the day off. The holiday was created as a part of the labor movement and celebrates the economic and social development of American workers. It continues to be a national tribute to the workers who have made contributions to the well-being of our country. Many consider it to be the last day of the summer season, and therefore celebrations often include barbecues and other outdoor parties. These festivities can turn a fun day of celebrating into a lifetime of recovery for anyone injured due to the neglect of an uncaring host, which could also lead to premises liability claims.
What Can Go Wrong?
The sun is shining, the weather is a perfect temperature, and the gang is all together. When the host lets their guard down, relaxes, and begins to neglect the responsibility of safety to their attendees, disaster can strike. There may be plenty of areas that need further consideration rather than relaxation. Looking around and not including the proclivity of alcohol consumption, there are:
Water toys and slides for the children which look like fun but can result in a slip and fall claim;
Swimming pool which can lead to accidental drowning and other mishaps if left unguarded;
Dog bites from the small, unfamiliar children pulling on the tail of the family dog;
Electrical injuries from an improperly protected extension cord mixing with water; and
Explosions from the fireworks set off next to the grill.
Responsibility for Safety
Kicking back and putting up your feet and maybe an umbrella in your drink are not entirely off-limits. However, it is advisable for a host to consider the following safety tips:
If alcohol is served, limit the amount consumed;
The property should be free of hazardous structures;
Pets are restrained, even if they are typically well-behaved,
If the pool is not being used, the fence surrounding it is operable. If there is no barrier, ensure everyone is aware of the pool and associated limits;
If it is a pool party, the pool should be sanitary, and someone should be responsible for the pool at all times.
If you have attended a Labor Day party or other summertime festivity and it resulted in serious injuries or even the death of a loved one, it is important that your voice is heard. You were invited to that party under the understanding that it would be a safe place to relax and enjoy all of the hard work that you have put into the year. Retaining legal counsel is one of the most effective and efficient ways to ensure that your voice is heard and that you get the compensation you deserve. If you would like to discuss your situation with a San Jose, CA personal injury attorney, contact The Law Office of John J. Garvey, III today at 408-293-7777 to schedule your free initial consultation.
Sources:
https://www.dol.gov/general/laborday/history