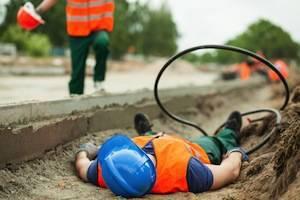 Electricians and construction site workers are exposed to potential electrical injuries daily. According to the U.S. Bureau of Labor Statistics, 1,738 occupational fatalities were caused by contact with an electric current between 2003-2010. In fact, the construction industry had the highest number of electrical fatalities—849.
To avoid workplace accidents, the safety of these individuals rests on the shoulders of both electricians and contractors. When safety guidelines are not followed properly, all workers are put at risk for exposure to potential electrical injuries.
Injuries Caused by a Contact with an Electric Current
The human body is a wonderful conductor for electricity. An electrical injury can cause damage to both the skin and internal organs. The severity of such an injury depends upon the length of contact, the strength of the voltage of the source, and the general health of the individual. When the human body comes into contact with electricity, serious injuries can result and may include the following:
Cardiac arrest or death;
Muscle, nerve, and tissue destruction; or
Thermal burns.
Safety First
Construction sites rank highly on the list of dangerous areas for electrocution. Due to the sheer amount of people included in building a new structure, injuries caused by someone else who fails to recognize the gravity of the situation occurs frequently.
Exercising every safety precaution by all individuals on a construction site is imperative for the wellbeing of everyone involved. The following behaviors should be practiced regularly when on a worksite to provide security:
De-energizing equipment and outlets before repair or inspection;
Maintaining tools correctly;
Using caution around energized power lines;
Marking energized areas; and
Utilizing protective gear.
When an incident occurs at a worksite due to the negligence of someone else—an incident which could have been prevented—there is an added layer to the grief. Often, workers are left unable to earn income due to sustained damages—a financial burden that adds to an already difficult situation.
If you were injured on a worksite due to the negligence of another, and are interested in discussing your options with a San Jose, CA workplace injury attorney, please contact The Law Office of John J. Garvey, III today at 408-293-7777 to schedule your free initial consultation. Here, if there is no recovery, there are no fees. We proudly service clients in Santa Clara County, Alameda County, Santa Cruz County, Monterey County, and other surrounding counties.
Sources:
http://www.esfi.org/workplace-injury-and-fatality-statistics
http://www.bls.gov/ooh/construction-and-extraction/electricians.htm
https://medlineplus.gov/ency/article/000053.htm
http://files.esfi.org/file/Workplace-Electrical-Injury-and-Fatality-Statistics-2003-2010.pdf