Collecting Compensation After a Hit and Run Accident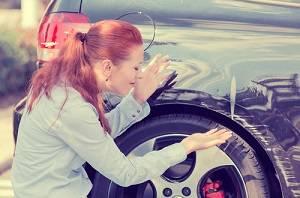 Getting into a car accident is a terrible experience for anyone. Being the victim of a hit and run can be even more devastating. A hit and run accident is any accident in which a driver intentionally leaves the scene without providing contact information. This can include when a car hits you and then speeds away or when a driver hits your parked car and leaves no contact information. Many victims of hit and run accidents are unsure of how to get compensation for their damages and injuries.
Collect Information and Gather Evidence
The first step to take after you have been involved in a hit and run is to collect as much information as you can. If possible, take note of the car and driver who hit you. Write down the model, make, and color of the car. Write down the license plate number or snap a picture of it if you have time. Note the time and location of the accident. Collecting this information helps the police find the person who hit you as well as help your car insurance company to make decisions about your claim.
Look for any witnesses that saw the accident. Ask them for their name and phone number. They may be valuable in helping prove your case in the future. Make sure to take several pictures of the damage to your vehicle. Pay special attention to any clues left behind, such as the color of the other car's paint.
Contact the Police
When you are the victim of a hit and run accident, you may be tempted to chase after the person who hit you. However, this is not the safest choice. You risk the other driver further damaging your vehicle, getting into another accident, or being seriously injured. After a hit and run, the best course of action is to call the police and file an accident report. Even if the police do not find the driver who hit you, having a police report on file can be valuable to your case and also help speed up the auto claims process.
Find a Trusted Attorney
If you have been the victim of a hit and run, you deserve compensation for your injuries and damage to your vehicle. Contact an experienced San Jose hit and run accident attorney to get the help you need. We will work with you to ensure that your rights are fully protected throughout every stage of the legal process. Call 408-293-7777 for a free consultation today.
Sources:
https://www.dmv.org/tips-for-handling-a-hit-and-run-driver-claim.php
https://www.usatoday.com/story/news/nation/2013/11/10/hit-and-run-crashes-los-angeles/3452699/