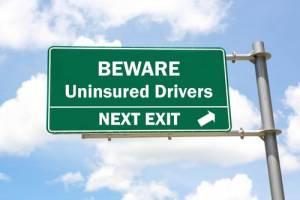 Getting into a car accident is most of the most stressful things a person can experience. Finding out that the person who caused the accident did not have auto insurance can be even more devastating. Generally, when a person causes a car crash, their insurance is responsible for compensating the other individuals involved in the accident. Without this insurance, the process of recovering costs associated with the accident can be significantly more complicated.
Uninsured Motorist Coverage
Automobile insurance is required by California law, but some individuals choose to drive without insurance anyway. Because of this, car insurance companies offer uninsured motorist coverage and underinsured motorist coverage. Uninsured motorist coverage is insurance which guarantees that the policyholder will be covered if they are involved in an accident caused by an uninsured motorist or are in a hit-and-run accident. California state law requires an uninsured motorist provision to be included in all auto liability policies. However, you may voluntarily decline this coverage via written request.
Even individuals who have purchased uninsured motorist protection can find themselves without enough financial compensation to pay for damages caused by an uninsured driver. The coverage included through an uninsured motorist policy is often not enough to cover the extensive costs incurred by a serious auto accident.
...