Avoid Traffic Accidents This Holiday Season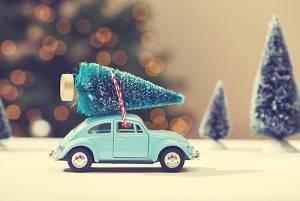 This is a busy time of year for many of us. Whether celebrating Kwanza, Hanukkah, or Christmas, millions of Americans will be traveling by car this holiday season, putting you and your family at an increased risk of getting into a car accident. The National Safety Council estimates that there were about 300 traffic fatalities last year and 37,000 injuries due to traffic accidents during the days surrounding Christmas of 2016. Every time that a person gets into a vehicle, they are taking a risk, but there are steps you can take in order to mitigate that risk.
Experts encourage drivers to make sure that their car is properly maintained. If you are going to drive a long distance this holiday season, it is a good idea to take the car to a service station to be inspected. Check the tires for correct air pressure and ensure that the tires still have adequate tread depth. Top off all the fluids in the car and replace old or worn out wiper blades. Ensure that the car's battery is working correctly. It is also a good idea to be prepared with an emergency car kit. In it, place extra phone chargers, blankets, flashlights, batteries, flares, reflective markers, water, snacks, and tools. Check your route and be aware of increased traffic patterns and accidents due to the holiday rush.
If You Get into an Accident, Take These Steps
Hopefully, your holiday travels go smoothly and without any problems. However, if you are in a car accident this holiday season, take the following steps:
If it is possible to do so, move your car out of the road and into a safer location;
Call the police. Having an accident report will be invaluable if you wish to prove fault or seek compensation for the damage to your car or your injuries in the future. A police report can also be helpful in speeding up the car insurance claim;
Anyone who is injured should be evaluated by medical professionals as soon as possible;
Contact your insurance company but do not admit fault, make a statement to them, or sign a settlement until you have consulted with an attorney;
Take pictures of the vehicles involved in the accident and any damage they incurred; and
Get the names and contact information of any witnesses to the accident. They can be beneficial in the future.
Trustworthy Legal Help
If you have been in a car accident in the San Francisco Bay area, you need an experienced San Jose accident lawyer. Contact our law office to schedule a free initial consultation. Personal injury cases are handled on a contingency fee basis. Call 408-293-7777 today for an appointment. Happy Holidays!
Sources:
http://www.nsc.org/NewsDocuments/2016/holiday-fatality-estimates-2017.pdf
http://www.cnn.com/travel/article/holiday-driving-tips/index.html